If strolling amongst the designer boutiques on the rue Faubourg Saint-Honore or Champs Elysees tugs at your heartstrings but would break your purse strings, don't settle for cheap goods or knock-offs—there is another way. You simply have to know where to get those coveted designer brands at a discount. Yes, even Paris has discount malls and stores throughout the city. There are two ways to get the bling without the bang—know where the designer outlet stores are for new things, and discover the wonderful world of depot-vente shopping for barely worn haute couture for a fraction of the price.
DISCOUNT MALLS - Outside Paris
If you're looking for Paris styles at a discount, you'll want to plan to visit the best outlet malls outside of the city. If your time is limited, visit the websites for the outlet malls below to find the one with the most brand names of interest and plan a day trip accordingly.
1.)
LA VALLEE VILLAGE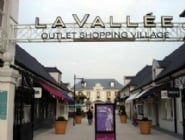 Basically, La Vallee Village is heaven on earth for designer goods bargain hunters. It is located at the stop just before Paris' Euro Disneyland. You purchase your ticket in the appropriate train station, and then carefully figure out which platform on which to wait. The trains come about every 10 minutes. You want to go to the Val d'Europe/Serris Montevrain station. It is the next to the last stop, the last being Disney. Once you exit, you literally walk out of the train station and go directly across into a large covered 2-floor shopping mall. This is not La Vallee Village, but it is a lovely mall where you can get most anything, including groceries.
La Vallee Village—Designer Discount Mall
This 90-store mall is designed with a village setting and has more high-end brands than its competitors. You walk all the way straight through this mall and arrive at the picturesque outdoor designer discount mall, La Vallee Village. Everything from Longchamp, Dior, Givenchy, Burberry, Lancel, Armani, Diane Von Furstenberg, Valentino, Missoni, Versace, Furla, Lacoste and many, many more iconic designers have outlet boutiques in this delightful designer discount village. Remember to ask for the detaxe forms if you spend more than about $500 in any one store. It is a perfect place to buy holiday gifts or stock up on gifts for the year. Often you save 50% or more on last season's clothing and accessories, which is a bargain. I always load up at the Longchamp store and buy the foldable, packable, indestructible bags for everyone I know (men and women). You can even get a discount on your train ticket by going to the welcome center. It is truly one of the best-kept Paris shopping secrets!
Getting there. There is a huge and marvelous discount mall just minutes from the center of Paris, and easily accessible by train—La Vallee Village (
http://www.lavalleevillage.com
). The RER is basically the Metro; only it goes farther outside the city, so you can only catch it at certain larger stations. Any Metro station will connect you with a station to catch the train—such as Gare de Lyon.
La Vallée Village offers a Shopping Express bus service with departures two times per day from Place des Pyramides near the Louvre Museum in the 1st arrondissement. To book your tickets, visit the La Vallée Village website below. For a day of shopping without the hassle of figuring out transportation, contact the
Paris Perfect office
and to put you in touch with our favorite driver who offers a fixed price service to La Vallée Village.
To get there by RER, TGV, Thalys or Eurostar train: get off at the Marne-la-Vallée Chessy / Parc Disneyland station. Then take the RER A4, towards Paris, exit at Val d'Europe / Serris Montévrain station (only one stop away).
Website:
www.lavalleevillage.com
Address: 3 Cours de la Garonne, 77700, Serris
Opening Hours: Daily (except Christmas Day, New Year's Day and May 1st) from 10am to 7pm
2.)
TROYES (McArthur-Glen Troyes)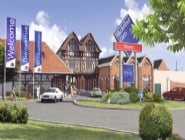 This is France's largest outlet-mall hub, just outside the medieval town of Troyes in the province of Champagne. There are other large outlet malls a bit farther outside of the city, most notably in Troyes, with both huge individual outlet stores for brands such as Lacoste, as well a combined in large malls; but they are harder to reach by public transportation. Troyes is a charming old town with half-timbered buildings and a delightful history, and the best way to get there is to rent a car, then spend some time in the ancient town, as well as the outlet malls. Shoppers have three malls to choose from, the biggest and best being home to 84 stores, including Lacoste, Kookai and Calvin Klein. From Paris' Gare de l'Est, it's about 1.5 hours by train to Troyes. But if your plan is to power-shop your way through all three Troyes outlet centers, it's much more practical to rent a car.
Website: www.mcarthurglen.fr
Address: Voie du Bois, Pont-Sainte Marie, Troyes
Opening Hours: Monday - Friday from 10am to 7pm and Saturday from 9:30am to 7pm
Marques Avenue: Troyes
The large outlet mall includes Hugo Boss, Etam, Naf-Naf and outlet shops for many trendy French chain stores.
Website : www.marquesavenue.com
Address: 114 blvd. de Dijon, St-Julien les Villas, Troyes
3.) MARQUES AVENUE: L'ILE SAINT DENIS
This popular mall has mainly mid-priced labels with familiar names you'll recognize. To get there, take the Métro Line 13 to Mairie de Saint-Ouen, then take Bus No. 166 towards Saint-Ouen and get off at the Marcel Paul stop (at the corner of platform Châtelier).
Website:
www.marquesavenue.com
Address: 8/9 quai du Châtelier 93450 L'Ile-Saint-Denis
Opening Hours: Monday – Friday from 10 am to 7 pm and Saturday from 10 am to 8 pm.
Discount Stores within Paris
1.)
RUE D'ALESSIA
All it takes is the Metro to get to an area within Paris with an entire street of outlet stores, rue d'Alessia. Here you can find a wide variety of very high end and some lower end designer outlet shops—such as Sonia Rykiel and other iconic French labels. It isn't the greatest of areas; so don't plan to be there alone after dark. On the Left Bank, there are several "Filene's Basement" types of grab and scramble shops such as Le Mouton a Cinq Pattes (the 5-footed sheep). These have bits and pieces of very high-end brands, but it is catch as catch can. There is also a street (Saint Placide) quite near the very pricey Left Bank department store Bon Marche that is filled with discount stores. One of my favorites in all of Paris is Le Clef (the key), which is located within walking distance of the back entrance to the Luxembourg Gardens. It, too, is often a jumble, but carries a huge variety of very high-end goods for children, men, women, luggage, shoes, handbags, sunglasses, lingerie, etc. I once got a $4000 leather jacket there (Lanvin)—original Lanvin price tag still on it—for $150! My husband has had similar luck, and we always go back there.
2.)
CHANEL OUTLET
Chanel
42 Avenue Montaigne, 75008 Paris, France
PH: +33 1 47 23 74 12
OR
25 Rue Royale, 75008 Paris, France
PH: +33 1 44 51 92 93
Biggest Chanel Branches -
Chanel Paris, 31 rue Cambon 75001 Paris 1er
AND
40 avenue Montaigne 75008 Zip: 75001 and 75008 Paris - France
Hours : M-Sat 10am-7pm T: +33-1- 42 86 28 00
Depot-Ventes within Paris
But, probably my very favorite way to shop in Paris is to go to depot-vente stores. These are usually very high-end consignment shops for designer wear. Parisian women often wear $6000 Chanel jackets once or twice, and then consign them. The better shops take designer buttons off so they can't be stolen, and give them to you when you purchase. You will get a minimum of 50% off last year's runway fashions (usually a LOT more), which look brand new. I once did get a $6000 Chanel jacket for $300. It is my pride and joy, and I have several other treasures obtained this way, including vintage but spectacular Hermes scarves, Louis Vuitton and Chanel handbags, Burberry coats, Chanel belts—amazing buys on things in perfect condition that I only dreamed of owning.
Throughout the years, I have probably been to most of the known and tripped-over depot-vente stores in Paris. Even given the unpredictable supply situation in any consignment or "recycled" boutiques, which is totally dependent on when something is consigned and the size of the person consigning (most stylish French women seem to wear the equivalent of our sizes 2-4), I have written several off, due to being uninteresting or too high-priced after my repeated visits. There is usually no room to bargain in these shops, as the consignee is contracted to receive a certain amount of the sale price.
1.)
ANNA LOWE
Probably the best known and certainly the most prominently located Depot-Ventes is Anna Lowe, easily located just as you enter the chic rue Faubourg Saint-Honore (104) from the Champs Elysees. Her shop is quite upscale, and the price tags reflect the high overhead for such a well-placed shop. I have never bought anything there, and have always done much better elsewhere. I was extremely disappointed when one year I saw her capitalizing on tourist greed by selling knock-offs of Hermes' iconic Birkin bag for about 600 Euro. That (selling knockoffs), is unforgivable, and belies the moneymaking nature of this particular depot-vente. Most others, especially little "hole in the wall" places, take great pride in presenting only the authentic article. In general, the higher-rent the boutique, the worse the bargains. But, if you really want something you see there, better grab it, as it will still be a bargain.
2.)
RECIPROQUE
Certainly the largest of the depot-vente stores is really a group of stores, divided into shops by category. Reciproque is in an elegant area of Paris, and is easily reached by Metro. It actually takes up both sides of nearly an entire block. This is the mother of all depot-ventes, and tends to have more of everything. There is a shop for vintage jewelry, one for designer scarves and umbrellas, another for luggage, one for designer handbags, the largest for women's designer clothing and shoes, and an entire large store dedicated to men—designer jackets, pants, accessories, ties, shoes, coats, shirts, briefcases—plenty for the men to do while the women work their way through the many other Reciproque shops. Bargains are definitely to be had, and they are very particular about the quality and condition of the goods they accept and sell; but, the prices may not be the very best you will find. However, the selection is the most vast; and, bargains are fleeting, so if you see something you want, you are unlikely to find it elsewhere. I have bought $6000 Chanel jackets for $300, vintage gold lockets and silver chains for a bargain, Hermes scarves for less than half of their original price (but look new, and even come with the box!), designer handbags, wallets, accessories; and my husband bought a great Burberry raincoat and several designer jackets. We never go to Paris without at least one trip to Reciproque. Here, however, as in most depot-ventes, there is no bargaining—the price is what it is, and it is a bargain. The clothing generally looks new, as do the scarves. The designer handbags may show some wear, but they are still a bargain, as well.
So, before you plunge yourself into debt on the pricey streets of Paris, look at the many other less expensive options open to you, if you know where to look!
************************************************************************
Credits:
Judith Nelson , Denver Travel Examiner
(via Examiner.com's posting dated
July 19, 2012
), ParisPerfect.com