~ from Geobaby HKG (updated 2013 July 27) and other resources like ChattyBrain.com, MadPsychMum.com, etc
*Note that although there are a lot of mothers nowadays who breastfeed in public, there also some older Chinese in the city who may still find breast feeding in public as taboo so just in case, please ensure proper coverups are available with you and that you show proper decorum. This means show minimal skin as possible and worst come to worst; please use your baby's blanket, if you do not have a nursing top with you.
**Also note that
to encourage nursing, the Hong Kong government has also provided baby care facilities in some government offices/premises. They've published a list of these facilities here.
AIRPORT
Chep Lap Kok / Hong Kong International Airport - I have personally used this room (in the picture below) during my last trip back to MNL with S. There are 31 nursing rooms with changing and feeding facilities that are located through the airport. These are (a) #19 in Terminal 1, (b) #5 in Terminal 2, (c) #5 in North Satellite Concourse and (d) #2 at Skypier.
This is great if you need to wait a long time for your departure. Then you can nurse all the way to your destination on the plane!
----------------------------------------
CENTRAL / ADMIRALTY
Marriott, Conrad, or Shangri-La in Admiralty -
Most have washrooms with a bench and mirror. Also look for the more secluded chairs in lobbies.
Pacific Place Shopping Mall – First floor (near Lane Crawford Home and Gift shop) and second floor (directly above first floor facilities, opposite the lifts). Look for the bathrooms where you will find a spacious baby room with a sink, changing table and chair for feeding. Accessible to men and women. One of my favorite rooms!
IFC 2 Building (Shopping Mall) - IFC women's rooms have breastfeeding/changing rooms, 3 to be exact.
(a) the ones across from the cinema in the Ladies' washroom;
(b) 2nd floor, nursing/baby diaper room on the corridor to the bathroom; not in ladies' rm, so daddy can keep u company,
(c) P3 Near Lane Crawford, Baby Changing Room, small room with one chair, sink, wipes and bottle warmer.
Prince's Building
- There are two known citings: (1) 1st floor Ladies' toilet on the first floor. One big chair just right for breastfeeding. There is an attendant keeping the place clean and handing you fresh towels. And in the floors above are some baby and maternity shops including Mothercare, Toto, and a toy store (can't remember the name). (2)
On the third floor, not far from Mannings is a silver door with two very nice baby rooms with changing and nursing facilities.
Tiny Footprints
- Located inside this lovely baby care shop (10th floor in 1 Duddell Street) mothers will find a colourful, clean and comfortable changing room as well as lounge chairs to feed in.
MO (Mandarin Oriental) BAR – ground floor of the Landmark building, located in the women's toilets. One of the poshest changing facilities in town!
Bumps to Babes
– changing table located inside this popular baby & children shop located on the 5th floor of 12, Pedder Street.
Hong Kong Park
– located at the park entrance just opposite the Shangri La hotel, near the public toilets. This might not be the fanciest baby room in Hong Kong, but it is clean and a good find if you are in the park.
Park Map
(on the map there is only an icon for the toilets although the nursing facilities are present)
Eugene Club (chinese site)
in Central (next to H&M)
Murray Building -
G/F Room G1A
Annerley's Midwives Centre

in Lyndhurst Terrace - Changing table and breastfeeding facilities
Address: Unit 1801, Car Po Commercial Building, 18-20 Lyndhurst Terrace, Central
Dan Ryan's - good places to eat with kids and they have changing tables.
Central Government Offices - 1st Floor at 2 Tim Mei Avenue, Tamar Site
----------------------------------------
WEST SIDE
Westwood Mall
(near Belchers in Kennedy Town) there are changing rooms on the ground and first floor.
Macau Ferry Terminal (Shun Tak Centre)
- A changing room is located in the basement and accessible through Maxim Restaurant.
----------------------------------------
KOWLOON / NEW TERRITORIES
Peninsula Hotel in Tsim Sha Tsui - take the lift to the 1st floor where the bathroom is nice.
Eugene Club (chinese site)

in Tsim Sha Tsui
Elements Shopping Mall
- Located on the first and second floors of the mall near the food village.
Harbour City
– Nursery rooms are located on the ground level (near Toys R Us), level two (near Giga Sport and another near Zara), level three (near the Shopper's Care Centre)
Hotel Ritz Carlton
– No presentation needed. The changing room is as snazzy as the hotel itself.
Address: in the ICC building. 1 Austin Road West, Hong Kong
Olympian Shopping Centre
– There is a baby care room on each floor (G/F, UG/F, 1/F) but only the UG/F also has a nursing room.
Padded sofas and cubicles with lockable stalls to breastfeed in.
For a mall floor plan ,
click here
Langham Place Hotel, Mongkok
- Fifth floor, near the lounge/bar.
Address: 555 Shanghai Street, Mongkok, Kowloon, Hong Kong
Megabox
- As the name "mega" implies, this is a large shopping centre located in Kowloon Bay. They boast having a Parent's room, baby diaper supply and baby stroller lending.
Festival Walk
in
Kowloon Tong
- L2, near the children's shops offers a family room with private nursing facilities as well as a comfortable changing table.
Grand Century Arcade

in

Prince Edward
- Located on the 5th floor.
Hong Kong Hotel in Kowloon side near Star Ferry - Try any other large hotels as these usually have comfy chairs in the lobbies and clean washrooms for changing babies.
Outside Toys R Us in Ocean Terminal there is a special glassed in area to breastfeed and change babies under the escalator.
----------------------------------------
WANCHAI / CAUSEWAYBAY / NORTH POINT
Immigration Building

in Wan Chai - pretty much in the wait area, I breastfed my son and daughter while waiting for their paper works. The bathrooms are not advisable. Just make sure you have a cover if you are shy to feed in public.
Lee Garden 1

- on the floor with all the baby shops, there a nice room with changer and couch to breastfeed.


Lee Garden 2

- 2nd Floor, outside Habitu, very quiet in the far corner however you are surrounded by tall buildings.
Hysan Place – there are two from memory, one on level 12 and the other is on U/G.
Times Square -
There are two options for your (a) Take the fast lift up to the 9th floor and look for the musical instruments shop behind Page One (bookshop). Here you will find a dedicated breastfeeding room as well as a changing room. The lady's toilet located here also has a baby changing table. (b) Lane Crawford Toilet has Chair and Counter, very quiet.
Eugene Club (chinese site)
in Windsor House, Causeway Bay on the 16th Floor.
Sogo Department Store in Causeway Bay- 6th Floor Children's Section
Sino Plaza - UG Floor
World Trade Centre - 2nd and 4th Floors
Hong Kong Central Library - The Babycare Room, located in the Children's Library on the 2/F, is reserved for patrons who need to breastfeed or bottle-feed babies. To protect users' privacy, only one family unit comprising at least one adult and one accompanying baby is allowed to use the Babycare Room at a time. Readers can contact the staff of the Children's Multimedia Room for use.
Queen Elizabeth Stadium
-
Jusco Department Store
in Kornhill, Tai Koo
-
On the 2nd floor near the baby department there is a changing area and a place to breastfeed.
Cityplaza Shopping Centre in Tai Koo Shing -
G/F and 3/F
Apita in Cityplaza Shopping Centre, Tai Koo Shing– in the Shopping mall where Apita is, near the baby section
-

---------------------------------------
SOUTH SIDE
Tree
- Located on the top floor of Horizon's Plaza, the flagship shop of Tree also has a cafe, children's play area and changing room.
Bumps to Babes
- changing table located inside this popular baby & children shop located on the 21st floor of in Horizons Plaza (
2 Lee Wing Street
Ap Lei Chau Hong Kong
).
Stanley Plaza
-
This clean and comfortable changing and nursing room, accessible to men and women, can be found on the ground floor near the toilets.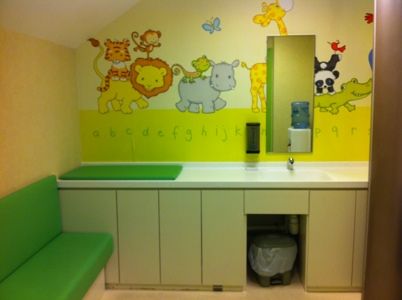 DISNEYLAND
Hong Kong Disneyland - tucked away in a quiet cosy corner next o the First Aide Center is the Baby Care Room where you can breastfeed in private. It is right beside the Corner Cafe at the end of Main Street.
----------------------------------------
OTHERS
Pacific Coffee and Starbuck's shops - Most have large chairs and some even have play areas for older children.
Many of the newer Superstore Park N Shops have baby changing/feeding areas with chairs in them. Festival Walk (Kowloon Tong), Paradise Mall (Heng Fa Chuen), Maritime Square (Tsing Yi), Citygate (Tung Chung).

All Mothercare stores have changing areas and usually a chair to sit on. The stores are in Prince's Building, Ocean Terminal, Windsor House and New Town Plaza (Shatin).

Try the changing rooms of Marks and Spencer, Mothercare, Wing On, Lane Crawford or UNY.
If they are not too busy they will usually let you use a room. Sometimes there are chairs. If not, the carpets are relatively clean.

Ikea in Causeway Bay, Shatin and Prince Edward (not far from Fa Yuen Street market) have changing tables and sometimes a chair. Try the cafeteria for breastfeeding. Usually quiet.

Discovery Bay/Star Ferries - The rocking motion will even help baby fall asleep!

Try feeding in McDonald's or a Chinese Dim Sum type restaurant. They are always noisy, so breastfeeding seems less obtrusive.

Jaspa's Restaurant, Sai Kung - A good place to eat with kids, very comfortable with breastfeeding mums in the restaurant.
Maritime Square in Tsing Yi has a nursing room at the same level than all the babies shops and Toys'R us. Very nice and comfortable but don't count on it on week-end, people are queuing up to change baby!
Paradise Mall in Chai Wan - Ground floor,
100 Shing Tai Road